2017-07-25 | ALL | No Comments
Between all the clients and the frequent travels, life has become quite hectic. Time itself as a resource is limited and valuable, so we all need to be selective in how we spend it. On the other hand, success doesn't come from ignorance. Time and effort need to be put into learning new things, keeping the focus and staying on top of your game. And that is why I am a big fan of podcasts. When you don't have a lot of time for reading books, or don't have the focus for watching videos, podcasts are the perfect tool for leveling up. There are a few better ways to multitask and to learn new things that podcasts.
And here is a list of the 10 best entrepreneurial podcasts, every business owner should subscribe to.
Entrepreneur on fire – EOFire is a daily interview with the most inspiring entrepreneurs on their best and worst career moments. Perhaps the most valuable part is the segment "The Lightening Round" where Dumas manages to get an extra piece of valuable advice from the guest. You can find a lot of great advice in the podcast that not only are proven to work but are also easy to apply.
Mixergy – Andrew Warner's interviews with high-level entrepreneurs on how to create a successful business and everything on the topic can provide you with answers to some of the biggest questions you might have. The best take away is that some of the interviews are arranged into online business courses.
The Tim Ferriss Show – Angel investor and #1 New York Times bestselling author Tim Ferriss, interviews successful people from entrepreneurs, to athletes, to celebrities, digesting their success path and thus derives their own tips and tricks with the listeners. This is a great choice for serious content, but with fun and light approach.
Smart Passive Income – Pat Flynn is famous for building an online business almost entirely through passive income channels. On his podcast, he shares a ton of passive income strategies that work as well as the ones that don't. He is very transparent with his business experience and the results, even his monthly income statement is on his blog. 
StartUp – The StartUp Podcast is, as the name suggests, a complete guide on how to start your business. You can find some of the most valuable tips when first starting a company, such as how to name your company and how valuations work, all the way to in-depth discussions about depth and how to conciliate family and career.
The GaryVee Audio Experience – Rock star entrepreneur Gary Vaynerchuk shares a ton of useful and inspirational material for his podcast. The show follows a simple Q&A format, with Gary answering viewer-submitted questions about marketing, social media, and entrepreneurship.
The Foundation – This podcast contains excellent interviews with so many high-profile entrepreneurs. It is an entirely online program for entrepreneurs, and its podcasts have the role of guest lecturers.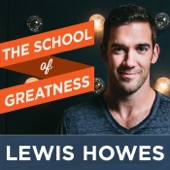 This Week in Startups – This Week in Startups basically shares what's happening in the world of entrepreneurship. Jason Calacanis, every week has a few experts over in order to discuss and share with the listeners some of the most interesting events and news happening that week. Apart from the world of web companies, the panel of experts also shares their own tips and strategies towards becoming a better business person.
Jocko Podcast – It is a show run by Jocko Willink and Echo Charles on business management and leadership. Besides the business aspect, you can also learn about leadership in war, relationships, and everyday life. You can gain a fresh perspective on how to deal with stress, self-discipline, negativity, how to be strong etc.
The School of Greatness – Lewis Howes podcast will, without a doubt, inspire you to achieve your biggest goals and dreams. His focus is not only on his own views and strategies toward success, but he also interviews other entrepreneurs, celebrities, and athletes who want to share their success story.
These are my picks for podcasts that can give you the unique chance to learn and improve yourself on the go. No matter if you are starting your first business, or just looking for inspiration, you can all find tips and tricks in these podcasts that can turn your business into a great success.